Choose these System Enhancements to Improve Air Quality & Save Money
Duct Cleaning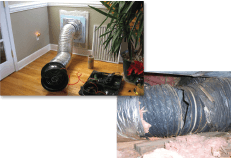 Remove the dust, dirt, pollen, animal dander, and other airborne contaminants that can build up in your HVAC system and ductwork with duct cleaning from HB McClure. If you have frequent itchy eyes and sneezing or more severe conditions such as asthma, allergies, or other respiratory ailments, you may want to consider duct cleaning to improve your home's indoor air quality and increase HVAC system efficiency. HB McClure's experienced technicians clean, sanitize, and seal ductwork using HEPA-filtered cleaning equipment and registered sanitizing agents. This service helps protect your family's health, keeps your home clean longer, and lowers energy costs by increasing the heating and cooling efficiency by up to 15%.
Our duct cleaning service includes comprehensive cleaning of all vents/registers and ducting as well as cleaning parts of your central air system, such as:
indoor/evaporator coil
blower wheel inside the unit
air handler insulation
condensation system
When you schedule duct cleaning service, you can expect:
up to one full day of work for most homes.
a quiet cleaning process.
very little dust or debris, even from the dirtiest ducts.
care for your home and personal items.
a thorough job and attention to detail.
a final cost that matches our proposal (no surprise add-ons).
See our duct cleaning service in action.
Download our duct cleaning flyer.
---
Humidification System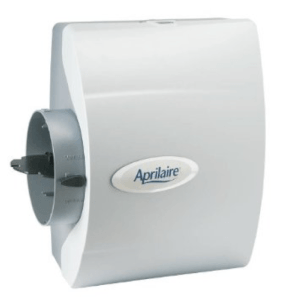 Maintaining proper humidity in your home can improve your health and the overall comfort of your home. If you want to alleviate dry skin, itchy eyes, sore throats, and sinus headaches, adding one of these humidifiers may bring the relief you're seeking. Plus, during the winter months, a properly humidified home can also feel warmer and more comfortable than a dry home. HB McClure's humidification solutions include:
Aprilaire Model 600M Bypass Flow-Through Humidifier
Delivers up to 50% more moisture than competitive units
Evaporation capacity of up to 0.70 gallons per hour
Aprilaire Model 700M Fan-Powered Humidifier
Ideal for larger homes
Evaporation capacity of up to 0.75 gallons per hour
---
Air Purification Systems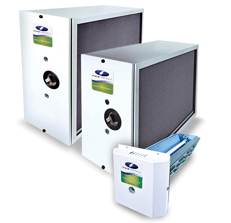 If you have a health condition that is affected by indoor air quality or you just wish to improve the quality of the air in your home, an air purification system may be the solution. HB McClure offers:
Media Air Cleaners: Merv-11 whole-house air filtration systems. Easily install into a ducted central heating or air conditioning system. Traps particles as small as 1.0 micron, including pollen, dust, mold, and dander.
UV-Aire In-Duct Air Purifiers: Germicidal lamps for forced-air heating and cooling systems. Continuously attack airborne mold, bacteria, and viruses circulating throughout the ductwork.
Healthy Home Duo: Two-stage air purification, including ultraviolet-C germicidal light and Photo-Reactive Oxidation to treat bacteria, viruses, mold, and fungi, as well as remove odors and VOCs.
Contact HB McClure to request a Residential or Commercial estimate, service, or fuel delivery appointment.