"I wouldn't call anyone
but HB McClure."
We Recommend. You Decide.TM
Your HB McClure trusted advisor provides you with unbiased options, allowing you to select the solution that's best for you. At HB McClure, our goal is to build lasting relationships with our valued customers.
Flexible financing for every budget!
Options range from deferred payment, no interest to 120 months at 9.99% APR.
HB McClure is also a Trusted Commercial HVAC Contractor
With 65% of our business being commercial in nature, HB McClure Company is a leading commercial mechanical contractor serving clients throughout the mid Atlantic. You can rely on our licensed engineers. With 100+ years of experience in mechanical contracting, they deliver…every time. Learn more about our design/build, HVAC and plumbing installation services.
Geothermal Expertise
We've been installing geothermal systems since 1974. With thousands of installations in homes and businesses, it's clear to see why we're the most experienced geothermal system provider in Central Pennsylvania. Learn more about this great "green", moneysaving solution.
Fuel Oil from HB McClure Company
Reduce your heating costs while providing guaranteed comfort. Choose from a number of fuel oil delivery options and service programs and enjoy HB McClure discounts in the process. Find out more about our fuel oil programs, equipment service, and non-program oil prices.
Propane from HB McClure Company
Trust HB McClure for uninterrupted propane delivery, prompt service from a company that keeps its commitments, competitive fuel costs with no hidden charges, and discounts and price protection plans. We'll even help you switch propane suppliers! Request an appointment and learn more.
Read what HB McClure customers have to say.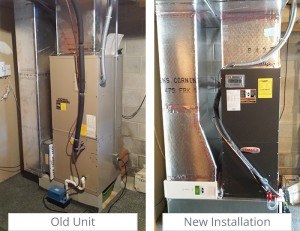 Gerald was prompt, courteous & friendly. Rob & Dan were also friendly and courteous.They were hard working, wore booties when entering my home & explained in detail what work they were going to do. Seemed to be organized.
Your techs were at my house installing a generator when my sink started leaking into the basement all over my washer. Lloyd came up and checked out the plumbing to discover it was the disposal. He then replaced it right. He is a life saver!  
Featured Commercial Projects