HB McClure Company History
Heating & Cooling System Maintenance and Repair in Central PA
Delivering on our promises and exceeding customer expectations is not just a philosophy we've built our business on, it's our mission for the future as well.
When people think of HB McClure today, they often think of the company as central Pennsylvania's most trusted HVAC contractor offering a wide range of services from propane delivery to commercial service and everything in between.
Most people don't know the roots of HB McClure: the small family business that bartered household items as partial payment but continually added new technologies and services that resulted in the company becoming the known market leader that it is today.
In 1910 Herbert Bassett McClure (1889-1963), for whom HB McClure is named, moved to Harrisburg from Wooster, Ohio. He had experience there working in the family business of sheet metal, plumbing, and tinning. Upon his arrival, Herbert McClure started working for Fisher Brothers located on 4th Street in Harrisburg.
Herbert then married Florence Fisher whose uncle Curtis was a partner in Fisher Brothers. Together, Herbert and Curtis formed Fisher McClure in 1914, a company whose services included plumbing, boiler installations and outhouses.
Through the McClure family's hard work and vision the firm grew as it was passed down 3 generations. It has thrived and grown year after year, sometimes as much as 20% even during recessions. It has offered training, education, management opportunities and secure employment for hundreds of central Pennsylvanians.
Herbert officially incorporated HB McClure Company in 1931. At that time, HB McClure Company was principally involved in the "sales, installation, and service of oil heating equipment." Herbert also had an affiliation with Electrol heating products which was one of the better boiler/furnace combinations available at that time. This paved the way for what became tradition at HB McClure – the early adoption of high-quality products designed to improve a homeowner's quality of life. HB McClure continues to be an early adopter of technology and was the first HVAC contractor to become proficient with geothermal technology during the oil embargo of the 1970s.
HB McClure was located at the 1515 Derry Street facility until 1999 when the current building was purchased. Since 1931, HB McClure has only had two corporate offices. Longevity and stability are key themes for HB McClure, a fact that is appreciated by employees, customers and vendors alike. Few companies in central Pennsylvania, particularly in the HVAC industry, can speak to the longevity and stability offered by HB McClure.


The success of Mr. McClure's family organization is greatly attributed to the dedication, knowledge, and attitude of the employees who have worked for HB McClure Company. This is truly a company where every employee is considered to be a member of the original family.
Why is our history important? Because in the HVAC business, trustworthiness, quality work and commitment to customer satisfaction are required elements of success. HB McClure has been delivering that and much more since 1914. Click here to see a brief timeline of our 100 year history.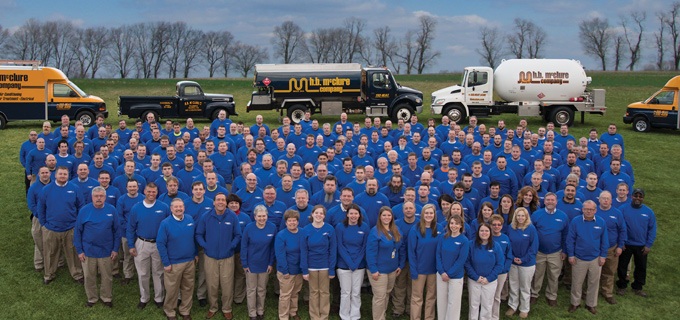 Contact HB McClure to request a Residential or Commercial estimate, service, or fuel delivery appointment.