Propane Delivery & Service FAQ
Let Us Answer All Your Questions about Propane
Do you use propane at your home or business? Thousands of Central Pennsylvanians use propane as a heating source, for cooking, for pool heating, and much more.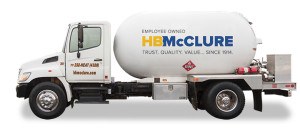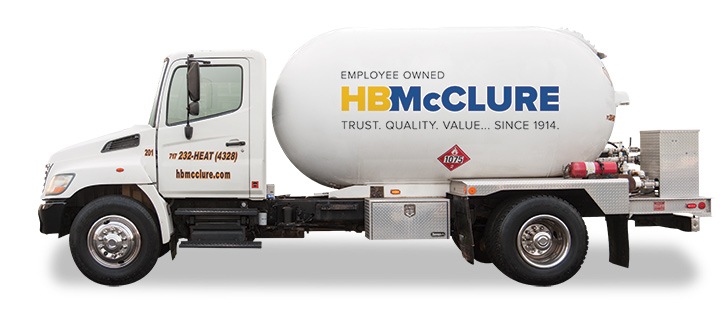 What many propane customers learn the hard way is that once you have a provider, it can be very difficult to switch to a new one. The fact that the per-gallon price of propane can vary from provider to provider is one reason why propane users switch. The service terms and tank ownership/leasing is another reason. And others want to select new propane providers because they want a one-stop shop for a wide range of heating, cooling, plumbing, and home comfort needs.
If you're thinking about switching your propane provider, but you have questions, HB McClure can help.
Call 717-232-4328 or find the answers to common questions below.
How can I change propane providers? What should I consider?
Start by making a list of what your current arrangement is and establish what is lacking. Price does matter, but so do the added benefits or hidden fees. It's important to understand what you have and what you are lacking in terms of per gallon price, tank ownership and/or leasing agreements, price protection, delivery charges, and more.
Compare HB McClure to other propane providers. Here is what we offer:
Reliable, uninterrupted propane delivery
Free Emergency delivery services for automatic customers
Courteous, prompt service from a locally-owned company that keeps its commitments
Very competitive fuel costs with NO hidden delivery charges
Extra savings for military, senior citizens, EFT, and more
Up to $300 discount on purchased tanks*
Economical and convenient tank lease/rent-to-own and purchase programs*
Assistance to end tank lease agreements with your current provider
24/7 emergency service, plumbing, heating, air conditioning, and electrical service
Money-saving Gold Shield® preventive maintenance service agreements
Senior citizen discounts available
Why does it matter if my propane provider offers other services? How is that a benefit?
Some propane providers don't offer service. They only sell the "propane." That means if you have a problem with your system, you may need another company to help you. Often this happens at the worst possible time.

Now that I know what I have and what I don't have, what should I do?
Request quotes from propane companies in your area.  By comparing quotes you can find the best possible deal. Your choice will rest on whether the new services you require (e.g. maintenance) seem adequate or whether prices are lower with other propane companies for items you already have under your current propane supply agreement.
Remember to ask about delivery fees and tank ownership. What will happen if you want to switch to a new propane company? How much will it cost you to buy the tank or have it removed only to have to buy a new tank from another provider?
Item
Current contract
When requesting quotes
Propane price
What does your current company charge for propane?
What is your current price?
Propane tanks
• Is your tank rented or purchased?
• If rented, do you pay a rental fee and if so, how much is it?
• If rented, will your current company sell your propane tank to your new company?
• What rental fees are applicable?
• Do you think I need a larger or smaller propane tank?
• If my tank is rented, will you purchase the tank from my current propane company?
Delivery options
• Are you currently on automatic delivery or do you order propane when you need it?
Payment options
• Are you currently on a specific payment plan, such as fixed pricing or budget plan and what does it cost you?
• What do you offer in terms of payment options? Can you match or beat what my current company offers?
Services
• Are you currently benefitting from any services, such as maintenance? What do they cost?
• What services do you offer?
• How much do you charge for services such as maintenance?
HB McClure offers competitive propane prices, no hidden delivery charges, and a wide range of complementary services. Schedule delivery today. Call 717-232-4328 or click here.
*Limitations apply. Call for details.
Save $$$ on Propane with HB McClure!
Fuel up this summer to save time, $$$, and energy later. To save even more, check out our current promotions.
Contact HB McClure to schedule a Residential or Commercial estimate, service, or fuel delivery appointment.