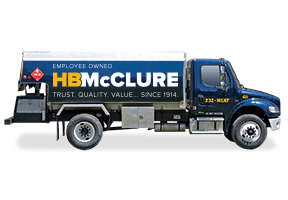 Today's Oil Price /Gallon
$3.10
Even if you are not enrolled in an HB McClure home heating oil program, you can still order oil from HB McClure!
Place your order! There is a minimum order of 100 gallons! Placing your order from this page will charge you the day rate listed below.
To see how you could save up to $0.16 cents/gallon with our SmartPay Automatic Delivery, EFT payments, Senior Citizen and military / first responder discounts click here*: HB McClure SmartPay
*Maximum savings is $0.16 per gallon.