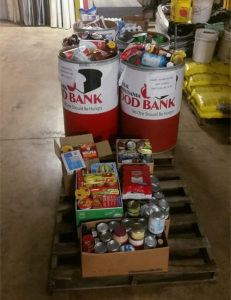 HB McClure is proud to announce its employee-owners have donated 1,540 lbs. of food and grocery products to the Central Pennsylvania Food Bank.
HB McClure began the campaign in May 2017 by organizing a company-wide competition called the Blue and Gold Bowl Food Drive as a way to maximize the amount of donations and boost participation.
The company was split up into six departments—Commercial and Construction, Commercial Service, Residential Housing and Replacement, Residential Service, HB York, and Warehouse Shop and Admin—to determine which one could contribute the most pounds of food after three months. HB York led the departments by donating 537 lbs. of food, over one third of the total amount donated. Congratulations to the other five participating departments that contributed the following amounts:
Commercial Service: 340 lbs.
Warehouse, Shop & Admin: 239 lbs.
Commercial Construction: 222lbs.
Residential Housing & Replacement: 123 lbs.
Residential Service & Fuels: 79 lbs.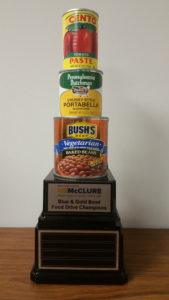 "HB McClure is proud of all of our employee-owners and departments for taking part in such an important cause," said Robert Whalen, President and CEO of HB McClure. "We hope that our contributions will help the Central Pennsylvania Food Bank to feed hungry families in our community."
The Central Pennsylvania Food Bank distributes over 48 million lbs. of food and grocery products to more than 900 soup kitchens, shelters, and food pantries throughout central Pennsylvania each year.