LEED Certification for Geothermal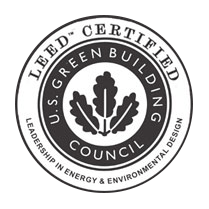 LEED Accredited Professionals have demonstrated a comprehensive understanding of green building practices. HB McClure has two (2) LEED AP design professionals and twelve (12) LEED Green Certified Field Technicians. That says a lot about our team, their capabilities, and HB McClure's commitment to serving both customer and environmental needs. LEED certification is difficult to achieve. It's an effort we're willing to make.
HB McClure has been leading the way in energy efficiency since the oil embargo of the 1970s. It's only natural, in an age of rising energy costs and focus on energy conservation, that HB McClure should continue its leadership position.
From green-building practices during HVAC design/build to energy-efficient equipment installation, HB McClure is uniquely qualified to help businesses construct and monitor the building performance metrics that matter the most.
To learn more, call our Design/Build Team at 717-232-4328 or click here to send an email.
We are LEED Certified!