Preventive Maintenance – What is PM?
Preventive Maintenance for Your Company's Heating System and Cooling System
What is Preventive Maintenance?
Preventive Maintenance (PM) provides the ongoing care needed to keep equipment running at peak efficiency and prevent problems. HB McClure believes that PM is essential to the proper functioning of any heating system, cooling system or plumbing equipment. When complex systems are forced to operate daily without proper care, they lose efficiency and break down faster, resulting in costly repairs and replacements that could have been avoided.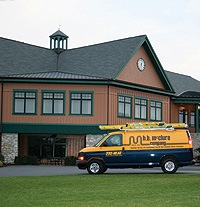 We work with you to develop a year-round maintenance program designed to help control costs and maximize equipment life cycles. There is no need to schedule appointments or worry about routine check ups. HB McClure takes care of it all. PM customers enjoy reduced labor rates and guaranteed same-day emergency response. Click to learn more about the benefits associated with Preventive Maintenance.
If mechanical system maintenance is not part of your cost-control program, it should be. Companies that proactively maintain their plumbing, heating and cooling systems enjoy measurable financial benefits, productivity improvements and even better employee and facility "health."
HB McClure Company offers one of the most comprehensive and trusted commercial service maintenance programs in central Pennsylvania. Countless businesses rely on HB McClure to keep their plumbing, heating, cooling and electrical systems operating at peak efficiency.
For a no-obligation consultation, call our Commercial Service Team at 717-232-4328 or click here to send an email.
During our regular maintenance calls, your technician's attention to detail and professionalism has certainly not gone unnoticed. They have consistently arrived on time and ready for work. We look forward to many years of continued great service from H.B. McClure Company.
JIM PURCELL
Director of Maintenance
Hershey® Country Club
Contact HB McClure to schedule a Residential or Commercial estimate, service, or fuel delivery appointment.