Sump Pumps and Sump Pump Installations
HB Home Service Team offers a range of sump pump repair, installation and replacement services in Harrisburg, PA. As an employee-owned business, we're 100% committed to our customers, and we strive to get the job done right the first time with every service call. We understand the importance of having a properly functioning sump-pump at all times, especially during the rainy seasons. We take pride in having over 10,000 5-star ratings from satisfied customers, and we're ready to assist with all your sump pump needs to ensure your home stays dry and comfortable.

Contact our friendly team today to schedule sump pump installation or repair service in Harrisburg!
Quality Sump Pump Repair and Installation in Harrisburg
Sump pumps are essential in homes with basements that are prone to flooding and homes with excess moisture around the foundation. They work by directing excess groundwater and moisture into exterior storm drains, dry wells or detention ponds to prevent interior flooding. If you've recently purchased a home with a basement or you've had issues with flooding in the past, you may want to consider sump pump installation to keep your space safe and dry. If you have an existing sump pump that's not functioning properly, you may notice that the unit cycles more often or makes unusual noises as it runs. Additionally, if your sump pump is over 7 years of age, it may start to fail due to normal wear and tear and require a replacement.
These signs can indicate potential sump pump failure. Be sure to contact us to schedule sump pump installation or sump pump repair to ensure your home stays dry and comfortable!
Sump pump runs constantly
Visible rust around the unit
Sump pump vibrates excessively when in use
Sump pump motor failure
We install both high and low-capacity demand sump pumps based on the overall flooding conditions of your home, and the sump pumps installed by our skilled team come with battery back-ups. If you have a home security system, we also offer a remote notification program that we can install right into the system to notify you if the water level in your sump pump pit rise above the standard threshold.
Trusted Sump Pump Services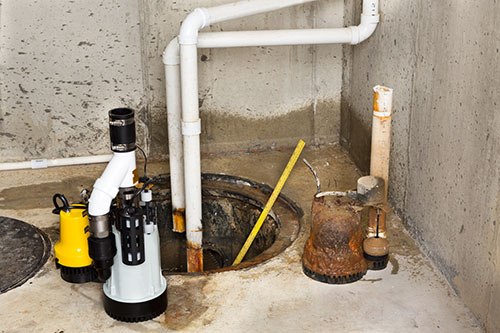 At HB Home Service Team, we know that timely service is essential when your sump pump is broken or failing. We offer 24/7 assistance for all sump pump emergencies, and our website interface allows customers to schedule appointments, request additional information and calculate pricing. Since our inception over a century ago, our primary focus has been and always will be to ensure the customers in our local community receive the highest quality service with all jobs.
We're standing by and ready to take your call. Contact us to learn more about our sump pump replacement, installation or repair services in Harrisburg today!
To learn more about sump pumps or our many other plumbing services, call us at 717-232-4328 or download our Plumbing Catalog.
Contact HB McClure to schedule a Residential or Commercial estimate, service, or fuel delivery appointment.