The Best Plumbers in Middletown

Our plumber at HB Home Service Team will deliver the first-rate and dependable plumbing services our clients in Middletown, PA, deserve. We have more than 33 years of experience in business, serving clients throughout the Middletown area. We can customize our plumbing service to suit your needs. Expect our team to serve you with distinction and show good manners all the time. We have qualified and experienced plumbers committed to bringing you peace of mind. We offer 24/7 emergency repair services, so a plumbing problem will not leave you in a jam for too long. We are a local company that understands the needs of Middletown residents and can customize our plumbing services.
Why choose us?
Property protection
24-hour emergency service
Work quality
Price competitiveness
Accurate needs assessment
At HB Home Service Team, we are renowned for a speedy response and completing plumbing tasks in Middletown expeditiously. We respect our clients, and we never compromise on quality. Our outstanding services have given us several return clients and make us a renowned plumbing company. We are committed to our promise of serving clients diligently and delivering the most reputable and dependable plumbing services. We will serve you no matter the plumbing service you require. Call our team at HB Home Service Team today for fast and responsive plumbing services in Middletown.
Middletown's Reliable Plumbing Service
We are your partner whenever your plumbing systems malfunction. A plumber at HB Home Service Team can turn around the situation and offer urgent solutions in Middletown. Our plumbers arrive on time with all the necessary equipment to repair, maintain, and install plumbing fixtures. We promise to ensure that your plumbing equipment, systems, and appliances function optimally. Whether it's cleaning clogged drains, installing sump pumps, water heater service, or plumbing repair, expect quality plumbing services from us. We offer a wide variety of plumbing services throughout the Middletown area to make your home comfortable and functional. It doesn't matter how complex the plumbing problem is; expect our qualified plumbers to tackle it professionally.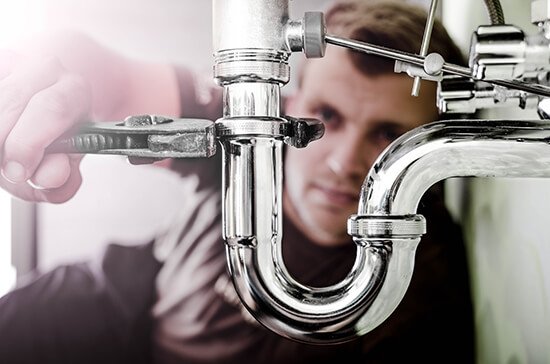 Our plumbing services include:
Water heater services
Waterline replacement
Plumbing inspections
Sump pump repair
Faucet installation
Qualified, Professional Plumbers
We offer tried-and-tested plumbing solutions because we have certified plumbers. Our plumbers have several years of experience, enabling them to tackle all sorts of plumbing malfunctions, irrespective of their complexity. You can count on our qualified and licensed plumbers to deliver quality services and show good manners all the time. We have a fleet of 14 vehicles that make it easy to serve all our Middletown clients while still delivering consistent service. The plumbers we have at HB Home Service Team are skilled to exceed customer expectations in Middletown. We specialize in garbage disposals, kitchen plumbing fixtures, faucets, piping, and any plumbing appliance in your home. Our skilled plumbers can install top-rated plumbing appliances and fixtures.
A Trustworthy Plumbing Service
HB Home Service Team can provide you with the best winter services for emergency plumbing during Middletown winter. We are always available whenever you need us. We promise to provide speedy and quality plumbing services.
If you are looking for a committed Middletown plumber to get the job done right, look no further than HB Home Service Team.