Hershey's Most Reputable Plumbers

HB Home Service Team is the company to turn to if you are looking for qualified plumbers in Hershey, PA, with a strong reputation. You will most likely require plumbing service at some point to fix plumbing issues or install water heaters or sump pumps in your Dauphin County home. Working with a plumbing company you can trust is vital in fixing plumbing issues and maintaining efficient plumbing systems and appliances. At HB Home Service Team, we have more than 33 years of experience serving the residents of Hershey. We are a local company that pays close attention to detail in order to give our customers the best plumbing services. Our plumbers offer around-the-clock emergency plumbing repairs. You can count on our certified plumbers when your plumbing system fails you at night or over the weekend.
Why choose us:
Winter services
Maintenance agreements
Employee-owned company
Professional plumbers
Competitive pricing
Accurate needs assessment
You can trust HB Home Service Team for all of your plumbing services in Hershey. We have a team of plumbers who can help you make your plumbing system as efficient as it should be. We understand that plumbing problems can cause structural damage to your house and other inconveniences. Therefore, we offer prompt and quick services. With our 14 fleets of vehicles, we can arrive at your property in Hershey with the necessary equipment despite the distance.
Professional Plumbing Service in Hershey
You can count on our dependable plumbing service to turn your situation around whenever your plumbing system acts up. Our trained and qualified plumbers can offer you an array of services, such as water booster pump installation, water leak detection, and faucet installation. Just give HB Home Service Team a call for the most professional plumbing service throughout the Hershey area. We can install, repair, and replace all major brands of plumbing appliances and systems. Our emergency plumbing services allow us to provide urgent solutions over the weekends and at night. We have a dedicated team that will arrive at your home promptly, ready with the required equipment. Expect high-quality services from our plumbing company.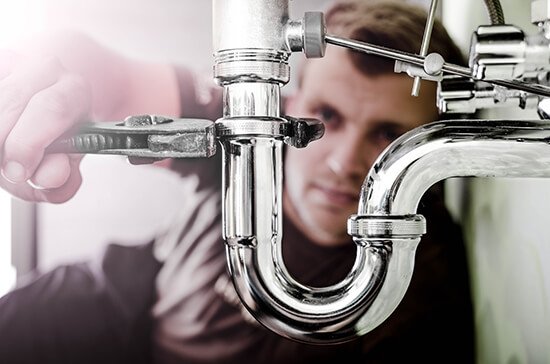 Our plumbing services include:
Plumbing inspections
Kitchen plumbing
Well pump repair and replacement
Waterline replacement
Drain cleaning
Toilet installation
Your Trustworthy Plumbers
We offer proven solutions because we have licensed, qualified, and experienced plumbers. Our skilled plumbers have the expertise to tackle any plumbing task irrespective of the size or scope. We show good manners all the time and promise the best customer experience. Our plumbers at HB Home Service Team can also install and maintain top-rated appliances and fixtures for our Hershey clients. Our trusted experts can repair any problem with your pipes, faucets, and garbage disposals.
Quality Plumbing Service
Turn to HB Home Service Team for speedy and reputable plumbing services in and around Hershey. We strive to exceed customer expectations, making us a dependable company. We believe you will love our work.
Contact us at HB Home Service Team today if you are looking for an experienced plumber in Hershey.