Baby, it's cold outside! Jack Frost is well on his way, but are you dreading his return due to cold temperatures…inside? Improper heating during the winter season can lead to higher utility bills, frozen or burst pipes, and other costly expenses that could have been avoided with proper maintenance. 
The experienced technicians at HB McClure created a list of identifiers to help you decide if your residential HVAC system needs repaired or replaced. If any of the below are noticeable, it is highly recommended that you get your heating system examined by scheduling an appointment with one of our HVAC technicians at HB McClure.
Do you notice any of the following signs of improper heating?
Vents blow cold air in heat mode

Higher than usual utility bills or bills that creep up month after month and never re-adjust

Temperature repeatedly inconsistent with thermostat setting

Strange or musty odors

Loud noises from unit, such as rattling or shaking

Inconsistent room temperatures (some warmer or cooler than others)
Homeowners are often unsure as to why their residential heating system is causing them issues. Sometimes it's an easy fix solution, while other times the most cost-effective long-term method is a residential HVAC system replacement. Our HVAC service will troubleshoot for possible causes of your home's improper heating.
Common causes of inefficient residential HVAC systems include:
Lack of maintenance

Mechanical wear and tear

Dirty or clogged filters

Ignition control problems

Broken thermostat

Duct leakage

Poor insulation

Outdated
What is considered an 'outdated' HVAC system?
While residential HVAC systems are becoming more efficient and technologically advanced, that is not necessarily an indicator that you need to upgrade. If your current residential heating or cooling system is less than 8 years old, you probably won't see much of a difference in your utility bills if you upgrade to a higher efficiency unit (unless you are experiencing any HVAC problems listed above) but you will be consuming less energy.
Repair or Replace: Which HVAC service should you choose?
Ultimately, the decision to repair or replace your residential heating system is your decision and our technicians will gladly proceed however you choose. That being said, our non-commissioned field and sales staff provide unbiased recommendations on what to do next based on your specific needs and pain points. We recommend; and let you decide!
Free Online Repair or Replace Form to Assist your Decision Making Process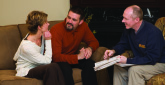 Did you know that heating and cooling account for about 48% of the energy use in a typical U.S. home? As the largest energy expense for most homes it is crucial to keep your residential HVAC system performing at top efficiency. Save time and money in the long run by filling out HB McClure's free online Repair or Replace form to see where your heating system rates.
Once you've filled out our Repair or Replace form and decide it's time fix your residential heating, schedule an appointment with HB McClure so we can get you warm and cozy this winter. If the unexpected occurs in the midst of the holiday hustle and bustle (such as a pipe burst or a heating breakdown), call our 24-7 Emergency HVAC Service hotline at 717-232-4328 (HEAT).
HB McClure provides residential HVAC service to Harrisburg, Carlisle, Camp Hill, Dillsburg, Middletown, Enola, Hershey, Hummelstown, Mechanicsburg, New Cumberland, and York.
Trust, Quality, Value…since 1914. That's HB McClure.