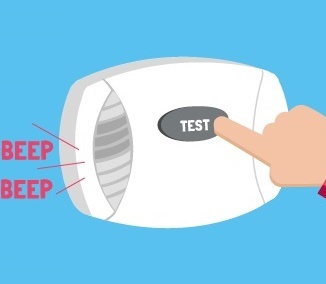 Carbon Monoxide is an odorless, colorless, and poisonous gas known as the 'silent killer' because exposure often strikes without any warning signs. This deadly substance is often produced by malfunctioning heating equipment such as furnaces, water heaters, clothes dryers, kitchen ranges, ovens and cook tops, wood burning stoves/fireplaces, gas refrigerators, automotive infiltration from attached garages and more. Carbon Monoxide Monitors are an extremely useful defense mechanism used to alert homeowners of Carbon Monoxide exposure. Often times, homeowners believe their home and family are protected solely because they have a Carbon Monoxide Monitor / Detector installed. This is not the case.
How can you make sure your family is protected from this silent killer?
While Carbon Monoxide Monitors / Detectors can be effective in warning you of dangerous levels of CO in your home, it is important to make sure they are properly installed and functioning. The experts at HB Home Service Team have created a list of safety measures to make sure your home and family is best protected from Carbon Monoxide exposure.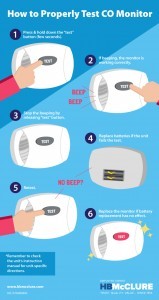 1. Test CO Monitors / Detectors weekly – How to properly test your Carbon Monoxide Monitor / Detector
Press & hold down the "test" button (few seconds).
If beeping, the detector is working correctly.
Stop the beeping by releasing "test" button.
Replace batteries if the unit fails the test. Retest.
Replace the Monitor / Detector if battery replacement has no effect.
*Remember to check the unit's instruction manual for unit-specific directions.
2. Choose a Carbon Monoxide Monitor that is rated for low level Carbon Monoxide detection.
At HB Home, we recommend the NSI 3000 Low Level Carbon Monoxide Monitor– The model, designed by the National Safety Institute, protects all age groups, especially infants, the elderly, highly sensitive people or ill people. The NSI 3000 Carbon Monoxide Monitor alerts you of a problem before levels become dangerous. Often, this is when other systems just begin to work.
The NSI 3000 monitors and displays levels as low as 5 parts per million and alarms at levels as low as 15 parts per million while UL listed detectors are rated not to alarm until 70 parts per million or over.
The EPA states 9 parts per million as the maximum allowable CO level for an 8 hour period.
The World Health Organization states that 15-30 parts per million as the first level to cause harmful effects.
3. Carbon Monoxide Monitors / Detectors should be centrally located outside of each bedroom area and placed at eye level.
For added protection, install Carbon Monoxide Monitor / Detector on every living level of the house as well as any room with an appliance.
4. Replace your Carbon Monoxide Monitors / Detectors at least every 5-7 years. Replace the batteries every 6 months for battery powered units and every year for hardwired units.
Occasionally, environmental conditions cause a shortened life span of Carbon Monoxide Monitor / Detector than what is labeled, which is why it is so important to test your Carbon Monoxide Monitors / Detectors weekly.
5. Gas burning appliances should be maintained yearly.
HB Home Service Team offers Preventive Maintenance as well as Home Comfort Assessments. During a Home Comfort Assessment, one of our specialists will inspect your HVAC equipment for signs of deterioration, improper functionality, and more.
Carbon Monoxide Protection No-No's
NEVER use unvented combustion appliances, such as generators or charcoal grills, indoors.
NEVER idle your car in the garage, even if with an open garage door.
Carbon Monoxide Monitors / Detectors SHOULD NOT be installed in garages, kitchens, or a furnace room, crawl spaces, unfinished attics, porches, poorly insulated ceilings.
Carbon Monoxide Monitors / Detectors SHOULD NOT be placed in outlets covered by curtains, furniture, or other obstructions.
Carbon Monoxide Monitors / Detectors SHOULD NOT be near turbulent air such as ceiling fans, air conditioners, heat vents, or open windows.
Stay safe and protected with HB Home
For decades HB Home has been installing and maintaining Carbon Monoxide Monitors in Central Pennsylvania along with a variety of other safety and protection services. Trust our team to keep your home properly protected. Call (717) 232-4328 for more information or click here to schedule an appointment today.
US Department of Housing and Urban Development Carbon Monoxide Fact Sheet